Day 3
More elf-making. Arms, hands, foam bodies. Peter showed me how to finish the carved pieces – the bits we use are coarse enough to leave little gouges and ridges in the wood, so after it's been carved, every piece has to be carefully gone over with a tiny sanding bit to smooth out the bumps and nicks. The trick is not to smooth out the personality of whatever it is you've carved, so you have to look closely and be constantly evaluating which lines are artistically valuable and which ones have to go.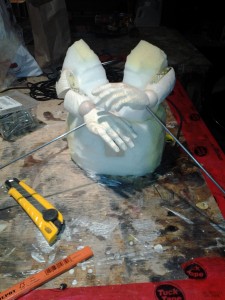 In fact, it seems that creating each puppet is a constant balancing act of intentional vs. unintentional choices. Case in point: After carving and finishing the arms for elf #43, I rigged them to the body (more on that later) and realized that they were a little off kilter. I showed them around and the first response was that it's those little inconsistencies that give a puppet individuality and life, but that I should solicit everyone's opinion. After taking #43 around to everyone in the shop, the verdict was that these arms were too uneven. So I had to dig back in and fixed them, but to leave them a little imperfect. As Peter put it: sometimes these flaws add quirky charm and life to the puppet. Sometimes we tell ourselves that these flaws are quirky and charming in order to avoid doing the work required to fix them. And that's why you ask other people what they think, because whether you listen to them or not, the process helps you unearth the truth from inside yourself.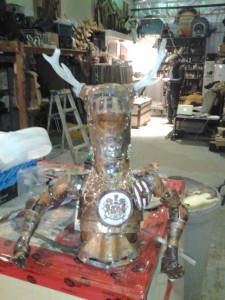 Here's a guy who's found his truth. The Christmas Knight!