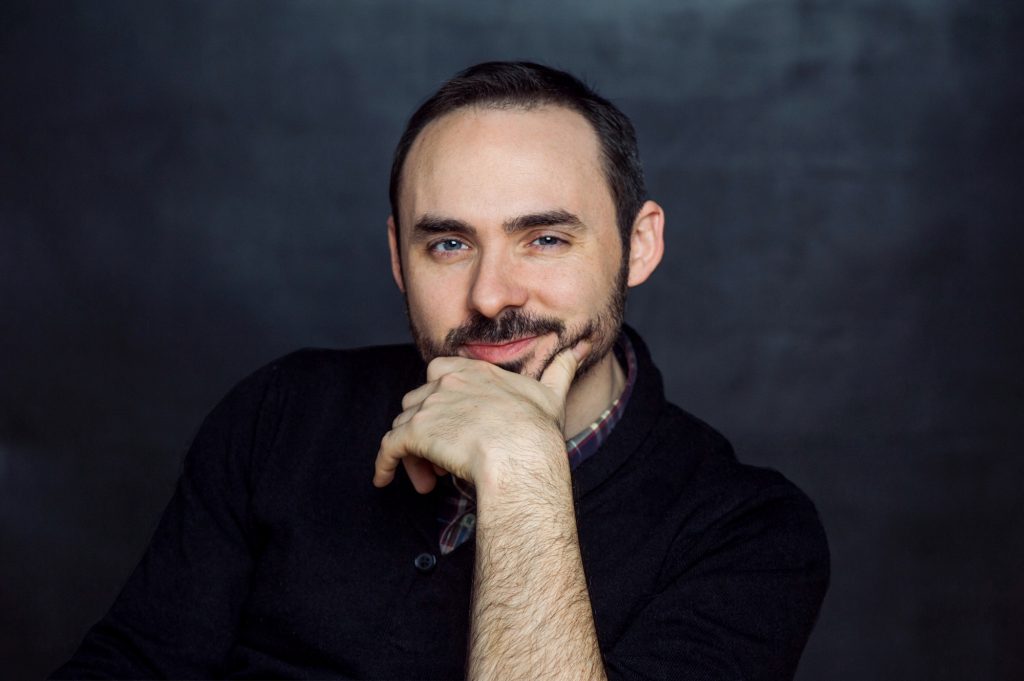 Tyler J. Seguin is an award-winning director and creator working in theatre and film. He is also the co-Artistic Director of the Guild Festival Theatre, Scarborough's only professional theatre. 
For GFT, Tyler has directed and created works including the Dora Mavor Moore Award winning Alice in Wonderland, his original adaptation of Anton Chekhov's short plays Chekhov's Shorts, INspiration:OUTside, Porch Plays and Anne. Under Tyler's leadership, Guild Festival Theatre's programming has grown to include multiple productions, touring productions, multi-disciplinary festivals, a creator's unit, and developing a residency program at the City of Toronto's new Clark Centre for the Arts. 
Tyler is also a celebrated freelance director with projects including Toronto Consort's new opera Celestial Revolutions, Adam Bailey's hit show Franz Ferdinand Must Die, and an experiential adaptation of The Oresteia for the University of Toronto at Mississauga's Theatre Erindale. Tyler participated in the Stratford Festival's Michael Langham Workshop for Classical Direction, and worked with the St. Lawrence Shakespeare Festival as their 2017 Artistic Associate. Tyler also co-administers the independent theatre company Thought For Food Productions with Helen Juvonen. Recent projects include Dark Heart (Toronto Star Top Production of 2018), Measure for Measure, The Trial of Judith K., and The Memo. 
Tyler has also worked with companies such as the Sudbury Theatre Centre (Mourning Dove, assistant director), Acky-Made (Yarn, Life List – NOW magazine citation for Best Use of Space) as well as bringing The Cousins of Corsica to Stratford's SpringWorks Festival (winner of the Audience Choice Award). He has co-created plays such as the puppet-based Handle With Care (Toronto Fringe 2013, NOW Magazine citation for outstanding design), the physical ensemble piece i (winner of Ottawa Fringe's Patron's Pick Award), and his site-specific production, Rearview (the only Toronto Fringe show to be stopped mid-performance by the police…) 
He is also an award-winning film-maker and in addition to performing in the comedy series Just Passing Through (winner: Canadian Comedy Award for Best Web Series), Tyler has directed two short films: Advances (winner: Toronto Food Film Festival – Best Short Film) and Weed Night, both written by Helen Juvonen. He also recently worked with Crux Encounter on an experimental theatre/film hybrid Why We Fight. Other film credits include apprenticing on the Old Trout Puppet Workshop's From Naughty to Nice (Winner – Best Live Action Short, Calgary Film Festival) and puppet design and performance on Ink Dragon (Winner – Noodler's Ink Short Film Contest). He recently wrapped filming onYou're Never Alone, Helen Juvonen's original webseries starring Tom McCamus and Chick Reid about grief and in-laws. 
As a performer, Tyler was most recently on stage at the SpringWorks Festival in Stratford with Andrea Scott's play Controlled Damage. Other credits include The Assassination of Robert Ford: Dirty Little Liar (Still Your Friend, Best of Fringe), Julius Caesar (St. Lawrence Shakespeare Festival), puppetry for the PanAm games, Little Shop of Horrors (Theatre New Brunswick), Alice in Wonderland (Sudbury Theatre Centre), Much Ado About Nothing (Single Thread Theatre), and The Importance of Being Earnest (Casa Loma).
Tyler is also a passionate educator and loves facilitating classes and workshops for learners of all ages and backgrounds. Some favourite experiences include working with Soulpepper's Youth Academy, the World Festival of Children's Theatre, the Ontario Art Teachers' Association, Shakespeare In Action, the Ontario Arts Council's Artists in Education Program, and the Ontario Science Centre. Tyler is currently an artist educator with Prologue for the Performing Arts.