Day 1
After getting the call from Theatre Ontario on the 4th, I had a frantic week of trying to squeeze in 1 month's worth of work into a single week: rehearsals for Yarn and Handle With Care, meeting Jim Morrow of Mermaid Theatre, A GFT board meeting, fundraiser prep and planning, voice lesson, house chores like fixing the fence, cleaning, organizing, packing, and – most importantly – spending quality time with my wonderful and understanding spouse, Helen.
After that whirlwind it was almost a relief to find myself on a plane winging its way westward to Calgary. Almost. It's always sad to be facing a month away from home, but the chance to work with the Trouts is just such an amazing opportunity.
Landed in Calgary and found Judd waiting by the luggage pick-up. Luckily, the luxuriant beard makes him easy to recognize. We met Pityu at the van, who informed us that the tires 'should stay on.' It's possible he was joking. We made it to the Regent Suites where my Little Shop comrade, Sheldon, is staying and crashed on his pull-out couch.
Made my way to the workshop the next morning and met the rest of the Trouts. Especially Finnegan, Pityu's Sheppard/something rescue dog who greets all newcomers to the workshop with a vigorous barking and a thorough investigation. Fortunately, Pityu had the foresight to stash some treats by the front door, so I met Finn armed and ready to make friends.
There's a lot to do before principle shooting begins. To highlight this point, the Trouts keep an enormous list on the wall of all the props and puppets that need to be finished as well as those with a 'done' proudly written next to them. Next to it. The candycane pike was marked as done when I arrived this morning, but during my tour of the shop, Judd realized that some adjustments had to be made, so the DONE was reluctantly erased. The board now mocks us with its long line of white space where the DONEs have yet to go.
I was set to work with Peter, helping him create the gang of elves that serve the King of the North Pole (I think. To be honest, I actually have no idea what the story is anymore. It seems to have changed a LOT since I submitted my PTTP application.) My task was to carve a block of soft foam into a pudgy, potbellied elfin shape slightly larger than the pudgy, amorphous elfin shape that Peter had roughed out the day before.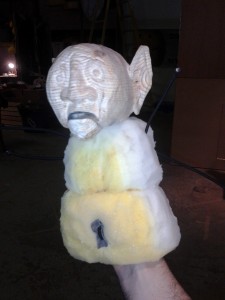 Don't worry – he'll look better costumed.
In the afternoon, I followed Peter into the wood shop where he taught me a few simple carving techniques using a power carving tool called a dremel (actually I was pronouncing it 'drummel.' Good thing I started reading labels. That was pretty embarrassing.) We finished the hands and created the wrists and arms to go with them, attaching them together with elastic. Our plan was to use leather to create the elbow joints. These arms are so small (1.5 inches in length), we wanted to avoid metal hinges. However, the leather proved too flexible and the tacks split the wood, so I finished up my day researching tiny hinges on the Lee Valley website – who should, by the way, totally sponsor these guys. A lot of what ends up on stage is in fact from Lee Valley.
The Trouts are almost exactly what I expected. Intellectual, earthy, abstract and practical. The environment is gentle – come in when you want, leave when you want, take breaks when you want. There's a level of trusting the newcomer that you don't often find in an established company. Early in the day I found myself carving a body next to Pityu's enamel-working with a dog sleeping under the table and Fleet Foxes' permeating the air. Perfect.
my workstation. the beautiful chaos